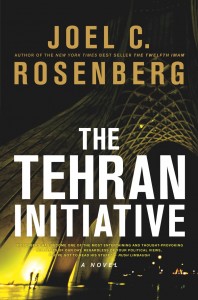 The Tehran Initiative
by Joel C. Rosenberg
480 Pages
Tyndale House Publishers
The Tehran Initiative by Joel Rosenberg is an action-packed, fast-paced, political thriller written from an evangelical Christian perspective. I received a complimentary advance copy from Tyndale House Publishers.
I have to be honest. I have heard many of my friends speak of Rosenberg's books for the last few years, and always with a passion. However, until this point, I have never read anything of his, primarily because reading fiction has not been a priority in light of all of the biblical studies with which I try to keep up. Reading The Tehran Initiative has definitely given me an appetite for more Rosenberg works.
In The Tehran Initiative, Iran has just successfully completed its first nuclear tests, there have just been presidential assassination attempts, and the Islamic Messiah (the 12th Imam, or the "Mahdi") is garnering alliances across the Middle East and abroad in order to build the ultimate caliphate, a one-world government united under the umbrella of Islam. Under the direction of the Mahdi, Israel (the "Little Satan") is on the brink of nuclear extinction or at the minimum a second holocaust, along with the United States (the Great Satan). CIA agent David Shirazi is pulled deep into the midst of the swirling chaos and comes face to face with his greatest fears, and begins to wrestle between his Islamic upbringing and the persistent Christian influences of those he has encountered.
Even though The Tehran Initiative is a novel, it will definitely make a person want to learn more about the current events in the Middle East and the global Islamic agenda. If you enjoy a fast-paced, plausible, reality-based fiction novel with an evangelical perspective, Rosenberg is your ticket.
If you would like to hear Rosenberg speak first-hand about The Tehran Initiative, follow this link:
http://tyndale.com/The-Tehran-Initiative/9781414319353
Similar Posts:
Comments
comments