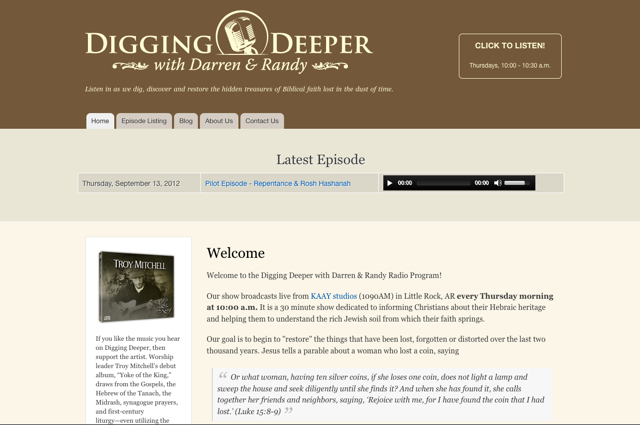 Well, it's official. I've officially started a talk radio show with my friend, Randy Fields. It's called Digging Deeper with Darren & Randy. We are broadcasting live from KAAY 1090AM in Central Arkansas every Thursday morning from 10:00 – 10:30. Last week we set sail with our pilot episode on Repentance and Rosh Hashanah. This week we will be discussing the Days of Awe and Yom Kippur.
The program is aimed at a mainstream Christian audience who know little about the rich Hebraic roots of their faith. If you would like to listen to the broadcast, you can do so by listening to the live show from the KAAY website, or from the archive on our website.
Our basic objectives are: Dig, Discover, Restore.
DIG into the Word.
DISCOVER what has been hidden.
RESTORE what has been lost.
Be sure to tell your friends, your Sunday school teachers and your pastors to tune in. We want to be a resource for educating and encouraging people to "dig" into the Scriptures. Be sure to check out our website and give us some feedback if you're able to catch the program.
Similar Posts:
Comments
comments