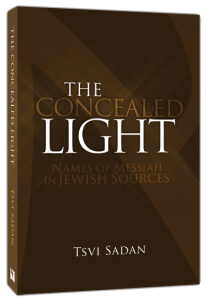 The Concealed Light:
Names of Messiah In Jewish Sources
by Tzvi Sadan
Vine of David, 2012
They say that quite often big things come in small packages. This is definitely the case with Tsvi Sadan's, The Concealed Light. It is the most recent publication put forth by Vine of David, a ministry arm of First Fruits of Zion that specializes in early Messianic Judaism and the development of Messianic liturgical resources. Committed to excellence in both academic integrity and aesthetic presentation, Vine of David pushes the envelope in their latest offering. First, let me introduce you to Dr. Sadan.
"Dr. Tsvi Sadan is uniquely qualified as the author of this book. Born in Israel, where he currently resides, he holds a Ph.D. in Jewish History from the Hebrew University of Jerusalem and has researched Jewish and Christian views of the Messiah for more than twenty years. Tsvi has taken on the task of becoming familiar with traditional Jewish materials. In this book he draws on this knowledge to give a picture of the Messiah found in Jewish literature but known to few Jews and fewer Christians." 1 He also had an article published in the latest issue of Messiah Journal, entitled Halachic Authority in the Life of the Messianic Community.
Now, let us move into the actual book.
Acher (Different), Even (Stone), Adoni (My Lord), Or (Light), Ar'yeh (Lion)… The list goes on from Alef (א) to Tav (ת). These are the names of the Messiah of Israel according to what the sages have derived from the Holy Writ. In this beautifully crafted book, you will find one hundred and one names in all, each presented in Hebrew with their English translations, explained in laymen's terms by native Israeli and Hebrew scholar Tsvi Sadan. In The Concealed Light, Sadan goes deep into familiar rabbinic sources, such as the Talmud, Midrash Rabbah, Sifrei, Pesikta Rabbati, Zohar, etc. to pull obscure references to Messianic titles expounded upon by the sages, and clearly explain the significance of each one. But then he takes it one step further by delving into little known sources such as Sefer Yeshu'ot Meshicho and the Perushei Siddur HaTefillah laRokeach—many of which are only available in Hebrew—to bring out even more insights into the Messianic identity as affirmed by Judaism.
Here is a sampling of the amazing research he has pulled together for this:
Orphan

"'We have become orphans without a father (Lamentations 5:3 NAS). … God said to Israel: 'You have said to me, "We have become orphans without a father"; therefore the redeemer I will bring from among you has no father, for it is said … "Today I have begotten You""' (Psalm 2:7). [He] "concluded from this that their Messiah … has no human father" (Sefer Yeshu'ot Meshicho). (page 116)

Olive

"'Oil … for the light' (Exodus 27:20)—this is King Messiah, who is also called 'Green Olive Tree' (Jeremiah 11:16). [He is called] 'pure oil' (Exodus 27:20) because he will light up the darkness for Israel, as it says: 'That You may say to the prisoners, Go forth' (Isaiah 49:9), and it also says, 'The Gentiles shall come to your light' (Isaiah 60:3)" (Otzar Midrashim, 138). (page 75)

Gold

"On 'one day which is known to the LORD' (Zechariah 14:7)—that day is a day of vengeance, when the Holy One, blessed be he, intends to wreak vengeance upon other nations. When he does, then 'I will make a man more precious than gold'—this is King Messiah, who will transcend and be more precious than all the inhabitants of the world, all of whom will worship and bow down before him, as is written: 'Those who dwell in the wilderness will bow before Him … The kings of Tarshish and of the isles will bring presents' (Psalm 72:9-10)" (Zohar, Vayera, 107b). (page 186-187)

Glorious

In an outstanding Jewish commentary from the ninth century CE on Psalm 36:9, "In Your light we see light," the author offers an imaginary conversation between God, Satan, and Messiah which reflects his own understanding of who is Messiah and what is his role. In this conversation, Satan attempts to deter God from honoring Messiah. Challenged, God asks Messiah what he intends to do in light of the suffering inflicted upon him because of those whom he came to save, and the Messiah answers:

"Master of worlds, with the joy of my soul and the pleasure of my heart, I accept upon myself that none from Israel will perish and that not only the living will be saved in my day but also those hidden in the soil…and not only those will be saved, but all hosts whom you have thought to create but have not. This is what I desire, this is what I accept upon me" (Pesikta Rabbati, 36). (page 120-121)
This is just a small sampling of what this little package has to offer. In a sense, it is somewhat akin to Raphael Patai's The Messiah Texts, in that it culls from a large volume of sources to offer us the very best gems. Couple this along with Sadan's fluid elucidation, and you have a very palatable work. For Christians, this is a wonderful introduction to the Jewish concepts of Messiah and will help bridge the gap between the very limited understanding of the role of Messiah within Christianity and the dynamic range of insights found within Judaism.
In addition to the quality of the text itself, Vine of David has done a brilliant job of packaging this gem to make it outwardly appealing as well. With its darkly contrasted tone-on-tone cover, deckled page edges and beautiful typesetting, The Concealed Light is not only a unique reference source, but could also double as a daily devotional or inspirational coffee table book. With its list of resources, which will inspire further research from the more scholarly, and its quick reference list of the various messianic titles in English, The Concealed Light will definitely be an attention grabber wherever it goes. I highly recommend it as an addition to your reference library, book club discussion or coffee table adornments. This book is available to purchase online from the Vine of David bookstore.
Disclosure: I received an advanced copy of this book from Vine of David.
Taken from the book jacket. ↩
Similar Posts:
Comments
comments