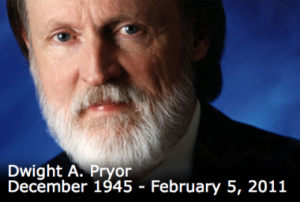 This past Shabbat, February 5 (1 Adar, 5771), a beloved co-laborer and spiritual mentor, Dwight A. Pryor, of the Center for Judaic-Christian Studies, passed from this world into the next.
Following are some of my thoughts about Mr. Pryor and how he impacted my life.
One of my earliest exposures to the Jewish roots of my faith came from hearing four Christian scholars at one conference (the Jerusalem Conference, hosted by Dr. Moseley) back in 1998. This was an event I was to attend repeatedly in the subsequent years. The scholars who taught those first few years were:
Did you notice anything about that list? All of the men held a doctorate, but Mr. Pryor. All of the men were authors, except for Mr. Pryor. But these things didn't make Mr. Pryor any less of a scholar, or of any less caliber than any of these other men. In fact, Mr. Pryor received great respect from all who knew him. In many ways, these other scholars owe their achievements in some part to Mr. Pryor. He was a mentor to Dr. Moseley, and helped Dr. Wilson with the publication of his book. He also helped with the publication of the joint effort of Dr. Blizzard and David Bivin, Understanding the Difficult Words of Jesus: New Insights From a Hebrew Perspective.
I always thought of him as a gentle giant (in more ways than one). He was a tall man, but soft spoken and deeply respectful to everyone with whom he came in contact. And although I didn't know him personally, he held a dear place in my heart since the moment I briefly met him. He was truly an inspiration. One of the things that inspired me most about Mr. Pryor was that he had so many challenges in life, yet he overcame them through the grace of Yeshua. He had many reasons to complain and loath in self-pity (the loss of his first wife nearly 20 years ago to cancer, losing the use of his hands due to severe arthritis, etc.), yet he was continually full of joy, so much so that it was contagious. One could not help but feel inspired after hearing him speak.
Yesterday, Boaz Michael of First Fruits of Zion, posted the following:
In Chasidic thought, it is an auspicious sign when a person dies on a holy day. On Shabbat Rosh Chodesh Adar, 5771, (the new moon of Adar), my spiritual mentor and teacher, Dwight A. Pryor (זצ״ל), passed into the world of truth. He died on a Shabbat, and more than that, he died on the new moon of Adar. According to the Talmud, "Joy increases in Adar." In this case, joy may have increased in heaven, but those of us still wrapped in this mortal coil lament the loss.
How true of such a great man as Mr. Pryor.
When we first learned about his passing through yesterday's FFOZ blog post, my wife and I wept. I commented that you know a person has impacted you deeply when you weep at their passing, even though you do not have a personal relationship with them. Mr. Pryor was a luminary in our lifetime and will be greatly missed. The void of his presence will be felt.
May his memory be for a blessing.
Similar Posts:
Comments
comments