I don't have a lot of time to post, but I wanted to share a quick thought…
In this week's parasha (Re'eh) we find the following:
You shall not do like everything we do here today, every man what is proper in his eyes. For you will not yet have come to the resting place or to the heritage that Hashem, your G-d gives you (Devarim 12:8-9)
According to a midrashic approach to this passage, when we are all approaching the Scriptures and living out Torah through our own interpretations and traditions, we are not entering into the resting place of Hashem, nor the heritage that Hashem wants to give us. Not only are we causing confusion and anarchy among our family and brethren, we are being "wise in our own eyes."
My family is constantly working to make slow, calculated steps towards greater observance of the mitzvot as spelled out by greater Judaism in order to do exactly this. No, we are not swallowing anything blindly, but neither are we presumptuously trying to reinvent the wheel in areas that have long been defined within historic Judaism. Please keep in mind that steps such as these have to be done with great humility and showing of grace to others. This is not a message of condemnation to those who are outside of this paradigm. I would love to see the greater Messianic community one day reach the place of becoming somewhat homogeneous in our approach to living out Torah, b'ezrat Hashem (with the help of Hashem). However, we must be gracious to those who are not on this particular fork of the road on which we are traveling. We must all work out our own salvation with fear and trembling. Just as Boaz shared this past weekend at the The Commandment to Bless seminar, we have to set a high personal standard for our families, while at the same time being gracious to others as they progress in their journey. There is no room for elitism or intolerance. Let's raise the bar as well as help people to get over it, rather than beating them with it.
Let us seek to enter into the resting place of Hashem, and into the heritage that He wants to give us.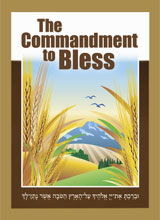 Simchat Torah of Arkansas will be hosting a very special weekend with Boaz Michael, Founder and President of First Fruits of Zion on August 23-24. It will be a great time to meet messianic believers from all over the state of Arkansas as we come together to fellowship, to worship the 
Lord and to experience The Commandment to Bless seminar.
Community-wide Shabbat Service
Our weekend will begin Shabbat, August 23 at 9:30 am with a community-wide Shabbat service, hosted by Simchat Torah of Arkansas. Our Shabbat schedule will be as follows:
9:30 am – Shacharit (liturgical prayers, reading of Torah, Haftarah & Apostolic Writings)
12:00 pm – Potluck lunch (see www.joyoftorah.com/food for food guidelines)
1:00 pm – Music & Singing
1:30 pm – Drash (Teaching) by Boaz Michael and B'nei Torah Class (for children)
The Commandment to Bless seminar
The Commandment to Bless seminar will be held the following day, Sunday, August 24 at 3:00 pm. There will be three sessions lasting approximately 45 minutes each, with breaks between the sessions. We will close out the day with finger foods and fellowship after the seminar during which time we invite you to participate in the experience of blessing according to the commandment, as well as getting to know other fellow believers. Please spread the word to friends and family so we can make this event a success!
Starting Date/Time
Location & Information

24 August, 2008

Sunday, 3:00 PM

For more information, download event PDF:

tobless_Sherwood.pdf

Seminar Information

Location:
Sherwood Bible Church
(Hosted by Simchat Torah Messianic Fellowship)
9650 Highway 107;
Sherwood, AR 72120

Everyone is welcome to attend. Finger foods and fellowship following seminar.

More information:
Contact:
Jeff Croswell or
Darren Huckey
Phone:
501-529-4467 (Jeff),
501-339-8151 (Darren)