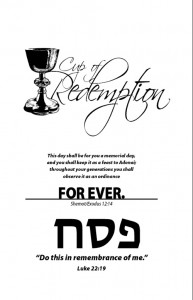 Thanks to everyone who gave me input on deciding what to name my Messianic haggadah. Special thanks to Aaron Eby for choosing the "winning" title, "Cup of Redemption." I wracked my brain with numerous options for titles, but landed on "Cup of Redemption" as the title, because it conveyed my point of connecting the Exodus and the Last Seder of our Master, Yeshua, plus it has great imagery attached to it. Thanks, Aaron for the great suggestion!
You have two options for getting your hands on this haggadah. You can either download it for free as a pdf doc (Adobe® Reader), or if you're like me and want the "full effect," you can purchase a physical copy, complete with a full-color cover and spiral binding—so that it lays flat at the Seder table as you are reading from it. I'll have the physical version available this afternoon, but in the meantime you can download the pdf and check it out.
Update: The Haggadah has been updated as of March 14, 2010! Physical copies are available for shipping now.
{filelink=2}
Similar Posts:
Comments
comments