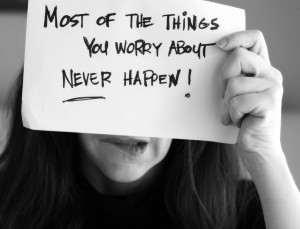 One of this week's mussar teachings from A Daily Dose of Torah (ADDT) references arguments & techniques of the yetzer hara (our "evil inclination" – or as Paul would say, our "flesh") which keep us from achieving our potential. It summarizes it as follows:
The arguments and persuasive techniques of the yetzer hara are presented in two categories: (1) those that involve raising doubts about fundamental religious beliefs and faith; and (2) those that try to dissuade a person from concentrating on spiritual concerns, and urge him instead to focus on the physical and the self. 1
ADDT defines these things as things which raise religious doubts, and arguments which cause us to loose our spiritual direction. I would like to broaden these to two general categories. In a nutshell, the two things that keep us from fulfilling our divine purpose in life are Doubts and Distractions.
Doubts
We have all had doubts that creep in as to our purpose… Should we be doing this? Should we be doing that? Should we have done this? Should we have done that? Is this really the choice I am supposed to make? What if I'm wrong? The list goes on and on. Doubt is a huge factor in following the will of the Almighty. The problem with doubt is that it is so deceptive. In nearly every case, we can overcome doubt by looking at the possible outcomes of our choices, and the "what if" scenarios. "What if" we made this choice? "What if" we made that choice? Would it be a disaster? In some cases, yes, it would be. But in the vast majority of cases, no, it would not. It would just mean that we would fail trying to accomplish something. Therefore, our pride is the only thing standing in our way. Our pride guards our doubts, and therefore cripples us from ever really knowing if something was the will of the Almighty or not.
"…the one who doubts is like a wave of the sea that is driven and tossed by the wind." (James 1:6)
I don't believe that it is as much of waiting to hear clearly sometimes as it is taking initiative and allowing our Heavenly Father to open and close doors along the way. He can do much more with one who is in "drive" than in "park." In other words, "Get off your duff, and go for it!"
Distractions
In regard to distractions, I think this may be the single-most pitfall of Western Christianity. We are so distracted by entertainment (and even "edutainment") that the Adversary doesn't have to work hard to keep us from fulfilling our purpose. Our X-boxes, Wiis, iPads and smartphones keep our minds revolving around things other than our spiritual needs. We are constantly being inundated by the TV as to what to eat, wear, & buy. Not only do we rush off to get the latest trendy gadget or hairstyle, but most of the time we view it as a "necessity." What if we focused all of that time, energy & money on doing something that would have eternal repercussions? What if we weren't so distracted from our spiritual purposes? The sages were unsympathetic in regard to making excuses for distractions:
Rabbi Jacob said: If a man is walking by the way and is studying and then interrupts his study and says: "How fine is this tree?" or "How fine is this plowed field?" Scripture regards him as though he was liable for his life. (Avot 3:9)
The author of the epistle of Hebrews says something similar:
Therefore, since we are surrounded by so great a cloud of witnesses, let us also lay aside every weight, and sin which clings so closely, and let us run with endurance the race that is set before us, looking to Jesus, the founder and perfecter of our faith, who for the joy that was set before him endured the cross, despising the shame, and is seated at the right hand of the throne of God. Consider him who endured from sinners such hostility against himself, so that you may not grow weary or fainthearted. (Hebrews 1:1-3)
And then Paul admonishes us:
Do you not know that in a race all the runners run, but only one receives the prize? So run that you may obtain it. Every athlete exercises self-control in all things. They do it to receive a perishable wreath, but we an imperishable. So I do not run aimlessly; I do not box as one beating the air. But I discipline my body and keep it under control, lest after preaching to others I myself should be disqualified. (1 Corinthians 9:24-27)
So… we can either use our time to serve our flesh, or to serve our Heavenly Father.
Rabbi Yosi said… Let all your deeds be done for the sake of Heaven. (Avot 2:17)
Are you pursuing things that are eternal, or are you allowing doubts and distractions to direct your life? What if all believers across the globe actually lived out their faith every moment of every day? What if we actually put aside doubts & distractions to accomplish the work of the Kingdom? Wouldn't that be strange…?
Wouldn't It Be Strange
(by Charlie Peacock)
I've got a question for your consideration
I'll make you privy to my contemplation
Let me say in my defense
I know it goes against all common sense
It's not our nature
Not what we've been taught
Flies in the face of every lie we've bought
It's hard to see it
Harder to explain
I know it cuts against the grain
Wouldn't it be strange if riches made you poor
And everything you owned left you wanting more?
Wouldn't it be strange to question what it's for?
Wouldn't it be strange?
I know we've got some interest to protect
A set of dots we're committed to connect
It makes us nervous in light of how it's been
To play a little game of pretend
Wouldn't it be strange if power made you weak
And victory came to those who turned the other cheek
Wouldn't it be strange to welcome your defeat
Wouldn't it be strange?
Wouldn't it be strange to find out in the end
The first will be the last and all the losers win?
Wouldn't it be strange if Jesus came again?
Wouldn't it be strange?
The Kleinman Edition, A Daily Dose of Torah, Vol. 10, p. 139. ↩
Similar Posts:
Comments
comments