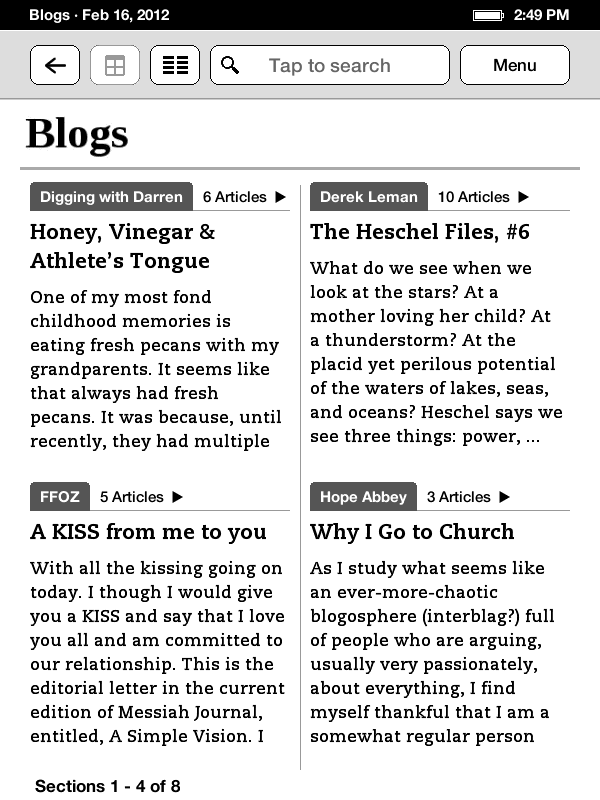 In January, I was blessed with a Kindle Touch for my birthday. Everyone knows how great e-ink readers are for books. However, right now I'm actually more excited about it's ability to act as an RSS aggregate. What do I mean by that? I mean that it can take any RSS feed (such as a blog, or news stream) and pull it into your Kindle in a very nice, organized and presentable format. I've struggled keeping up with multiple blogs over the last several years. I currently subscribe to 27 different blogs (nearly all Messianic) via RSS feed, and they all come into my email Inbox. While this in and of itself is really great, in that I don't have to go out on the internet and hit each site to find out whether they have posted anything new each day, it can be a little overwhelming and difficult to keep up with even when it's coming into my Inbox. Now I have a new solution: my Kindle.
If you have a Kindle or any other e-Reader device of your own and would like to know how, I'm about to show you through this tutorial / howto. And although you can't just turn on your Kindle and click a few buttons, it's not difficult to get it set up. Not only can you get blogs, but online news sources such as Ha'artz daily, the Jerusalem Post, etc. Here are the steps:
1. First, you need to download a FREE application called Calibre. It comes in 4 flavors: Windows, OS X, Linux and "Portable." I haven't tried the "Portable" format, so I'm not sure if that's cross-platform or what. Anyway, just download the application and add it to your desktop applications. You'll want to put it somewhere that is easy to access, because you'll be using it quite a bit.
2. Next, you'll need to configure Calibre to work with your e-Reader device. Calibre will ask you a few questions to get you set up and then you will be presented with the main page.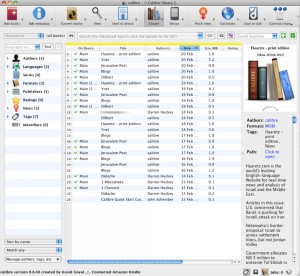 3. Now, you will create a new news stream, and start adding links to RSS feeds to it.
3.a. First, click on the "Fetch News" icon on its pull-down menu at the top. If you just click on the icon itself, you will get a window for scheduling your news downloads (we will discuss this in a moment). For now, you will want to use the pull-down menu and select "Add a custom news source."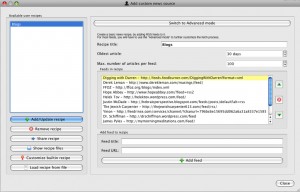 3.b. Now, you will name your news stream, in this case I called mine "Blogs" because it would contain all of my feeds from the various blogs to which I subscribe. You will enter this in the "Recipe title" box at the top.
3.c. Now, toward the bottom in the "Feed title" area you will enter the title of the blog, or something to let you know which blog you are seeing. To set up my blog, you would probably enter "Digging with Darren."
3.d. Next, you will enter the url to the RSS feed. These can be tricky to find these days for some reason. However, any good blog site should have it in a fairly obvious location. You will either see a link marked "feed" or "rss" or more often, you will see an RSS feed icon (which looks something like this:

). You can either Command-Click (Mac) or right-click (PC) and copy the url / link location directly from this. My RSS feed location (I use Feedburner) is: http://feeds2.feedburner.com/DiggingWithDarren. (Make sure you don't copy the "." at the end if you copy it from here.) You will now paste this into the "Feed url" box.
3.e. Finally, you will click the "Add feed" button at the bottom and this will add the feed to your blog feeds.
Don't stop here! You have two more important steps!
This is only your first blog feed. You will want to repeat steps 3.c – 3.e. with each blog to which you wish to subscribe. When you are finished, you will need to do the following:
4. Click on the flashing "Add / Update recipe" button on the left in order to save your "recipe" (your news stream). If you would like to add more blogs to your "recipe" in the future, you will need to select the recipe first, before you start adding blogs, or you will be creating an entirely new stream for each one (I did this before I understood how it worked). From there you will click the "Close" button in the lower-right. It will ask for a confirmation, which you will need to approve.
5. Lastly, you will need to schedule when you would like Calibre to pull down new files from the internet. I have scheduled this to happen daily around 6:00am. You will do this by clicking on the "Fetch News" icon at the top of your main window. It will open a new window in which you will see a list of all of the potential news streams that Calibre has pre-configured, plus your custom blog stream, which is in the "Custom" list at the top. You will click on the arrow to the left of "Custom" to reveal your blog stream. Then you will click on its title ('Blogs"). Calibre will then show you a list of scheduling options. You will select the options you desire, and then save.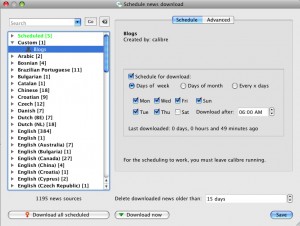 Now, if Calibre is running, each time you connect your e-Reader devise to your computer it will sync with Calibre and download any new articles if they are available and have been downloaded. I would love to get some feedback and to know if any of you take advantage of this.
Similar Posts:
Comments
comments