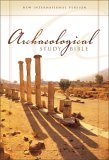 Zondervan has recently released a new addition to their plethora of Bibles in their study Bible family. It is called the Archaeological Study Bible. Although this name has undergone a bit of scrutiny, I think it is a name that is probably best suited for this particular work on marketing level, since the average person doesn't make classification distinctions between archaeological, historical and geographical information.
The entire Bible is printed in full color, and it has 500 full cover photos of relevant material, not to mention that it's simply beautiful.
If you have the opportunity, check out their website. It's full of quite a bit of information regarding this new release, including a $10 rebate if you act quickly (offer expires at the end of June, 2006). The hardback retails for $50, but you can get it for $31 through Amazon.com
, and then use the $10 rebate, saving you over 50% off the retail price. If you would really like a quick reference for histori-geographi-archaeological insights into the Biblical text at a glance along side your daily Bible study, this might be a good option, if nothing more than to have a gorgeous-looking Bible.
Similar Posts:
Comments
comments